Long Wharf Supply Co.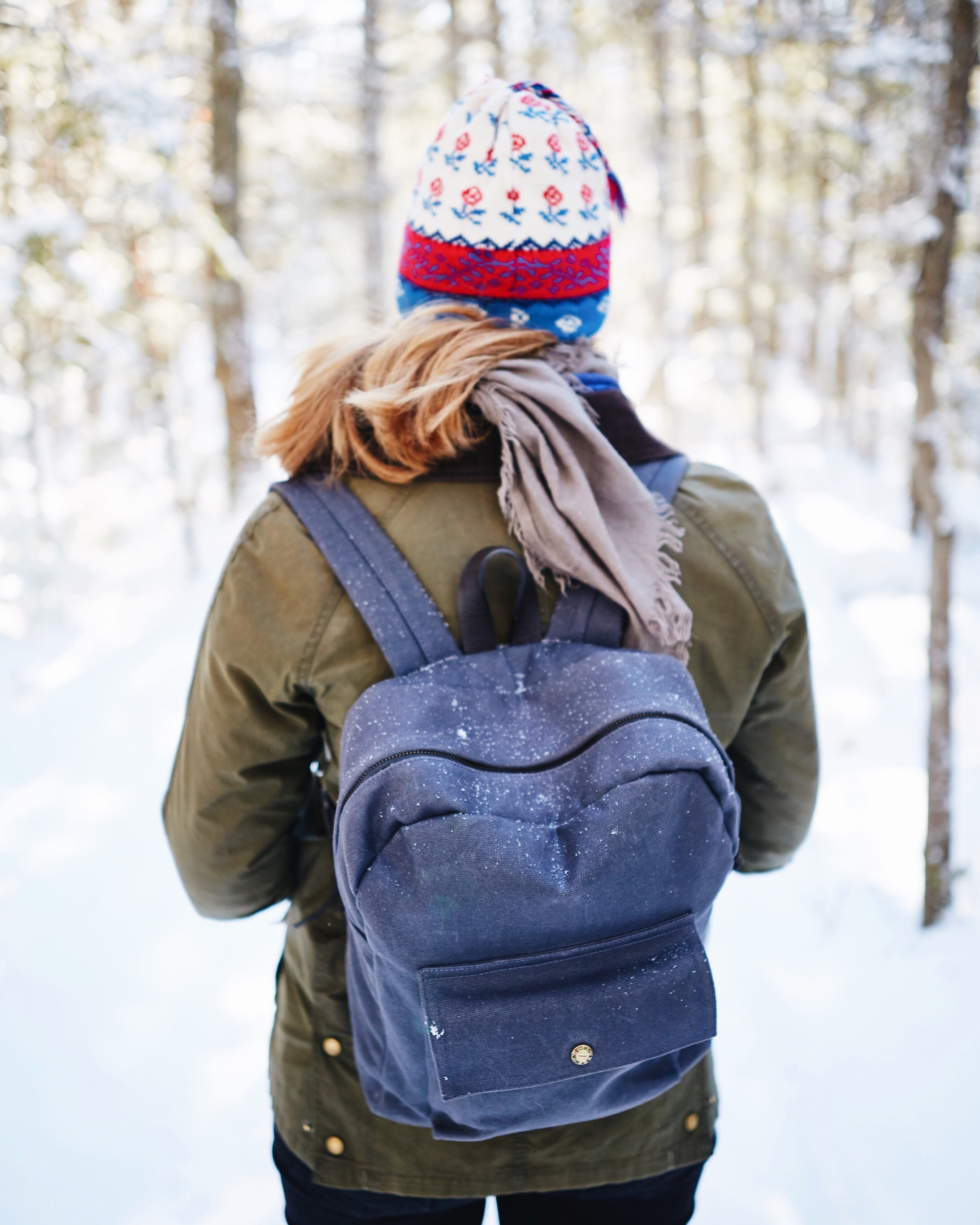 starts first thing in the morning and doesn't end until well after dark. The hours in between could include anything from strolling the streets of town to skipping stones on a beach or even bushwhacking to a waterfall. I like the spontaneity of setting out for the day, while being prepared for any form of adventure.
When I met Mike of Long Wharf Supply Co., he was just on the cusp of launching his new coastal inspired line of waxed canvas bags. Eager to get my hands on one, he let me sample the Ipswich Day Pack. I quickly fell in love with how versatile this backpack was. I felt confident and stylish walking through town, but had no problem taking it off the road and into the woods. It comfortably fits my laptop, camera, water bottle, snacks, and an extra layer -- what more could you need.
Enjoy our interview with Mike to learn more about how he got started and what it has been like growing this lifestyle brand.
Maine The Way: Alright, for those of us who are new to your brand, how would you describe it? What do you sell?
Long Wharf Supply Co.: First thing I tell people is we are a lifestyle brand blending a clean/modern aesthetic with everyday functionality and rugged materials. I launched the brand with a line of custom-made waxed canvas and bridle leather goods.
MTW: What encouraged you to start the brand. What were your initial goals as a new player in an already saturated fashion/dry-goods industry?
LWSC: The industry overall may be saturated, but I actually think there are very few players today who have an authentic voice, who haven't sold out, or who are truly passionate about what they create. I was working for a successful fashion/retail entrepreneur in NYC so I regularly followed brands and I didn't think anyone was doing it right. I didn't relate to brands that were rooted in other areas of the country or lacked an authentic sense of life around historic seaports. I thought there was an opportunity to tell some of these seaport stories and build a brand around the communities where I grew up. I, terms of product, I always searched for pieces that either weren't made for my grandparents or weren't built with cheap materials and bright pinks/neon greens. I found myself constantly searching for clothing/accessories that could seamlessly go from the city to the seaport. To fill that void, I launched Long Wharf.
MTW: We have to imagine that with starting a brand selling physical goods like bags, there must be a pretty large barrier to entry. You have to design, source materials for, and produce something entirely new, while at the same time, you have to also be marketing your new product to the world. What have been the major challenges for you?
LWSC: SPOT ON! There are a million challenges to overcome every day across every business function. Finding incredible partners is a big one. It is hard to find people you can trust who are highly motivated, understand the brand, and are in a partnership for the right reasons.
MTW: As small business owners ourselves, we know that despite all the planning in the world, there are still surprises around every corner. What has surprised you most as you get Long Wharf Supply Co. off the ground?
LWSC: I'd say the most surprising aspect of launching Long Wharf would be the openness and sense of community I've felt from other entrepreneurs. Between sharing their marketing ideas or a resource or referring other advisors, it's really the only thing that has kept the business alive and helped it thrive over the first year.
MTW: Is this a solo project? If not, who else is involved?
LWSC: On a full-time basis, it's technically a solo project. I've been very lucky to surround myself with incredible partners, advisors, and other brands that fortunately function as an extended part of the team. I'm also lucky enough to have my brother, sister, and a bunch of cousins who help on a part-time basis or with project work.
MTW: How did you decide to start with producing bags?
LWSC: I needed to graduate from my tattered NorthFace backpack and Nike gym bag. I found myself constantly going back up to New England or out to Montauk to fish and never felt like I had a high-quality bag to drag between the office and the boat that could withstand some wear/tear and get better with time. To fill that need, I designed our Weekender and Day Pack and went from there.
MTW: You've got quite the Instagram presence! How important have social platforms like Instagram been for you as you grow Long Wharf Supply Co.?
LWSC: They've been very important to show social communities what Long Wharf is all about and to share our experiences/adventures. Even more importantly, they've been our main source of meeting like-minded people who share similar passions, want to partner, and have an appreciation for what we're building. It really does go down in the DM.
MTW: What has been your proudest accomplishment to date?
LWSC: Two things..
1. Friends have sent photos of strangers rocking Long Wharf gear around NYC, Boston, and a number of the surrounding seaports. That's probably the coolest thing any startup can experience.
2. Other brands/partners that I've looked up to and admired for a while are reaching out to find ways we can work together. That tells me we're building this brand the right way when highly respected partners/people are willing to place themselves next to Long Wharf.
MTW: What is the design philosophy/aesthetic that Long Wharf Supply Co. embodies? Is it tied to your location here in the Northeast?
LWSC: It's definitely inspired by growing up along the Northeast coast. The mix of hopping from seaport to seaport and growing up working on lobster boats was a huge influence behind the line. I wanted to keep our aesthetic clean and simple while allowing the materials we use to set us apart.
MTW: We love waxed canvas for its simplicity, understated, but slightly rough elegance, and most of all its durability. What made you choose this material for your first line?
LWSC: Waxed canvas was originally invented by early mariners who rubbed fish oils across their sails and garments to weatherproof their gear. Since then the material has been adopted by the military, ranchers, and mountaineers among others. Today, most sails, accessories, and performance apparel are created with cheap nylons, acrylics, or PVC, but I wanted to bring the material closer to its roots and pay homage to those early mariners who created the material for functional purposes first and foremost. That necessity for high functionality and durability is front and center in every piece we create ourselves. The material truly gets better as it breaks in with use over time.
MTW: Where can our readers find your products? Do you have any plans for a brick and mortar store of your own?
LWSC: A Long Wharf store on the edge of the horizon. For now, we're focused on continuing to build our digital presence at longwharfsupply.com and partnering with select stockists up and down the east coast.
MTW: What is next for Long Wharf Supply Co.?
LWSC: We're starting to expand the line across accessories/apparel and we added new colors this fall. We've begun sampling a few pieces of outerwear and really cool windproof sweaters for next fall. Follow along @longwharfsupply and we'll keep you in the loop every step of the way!
It's been amazing to watch your brand grow, Mike. Can't wait to see what's next for you!